Custom Searches of the FAERS, AERS and SRS Databases
Read our frequently asked questions
Order a custom search
FOI Services is pleased to provide custom searches of FDA Adverse Event Reporting System (FAERS 8/28/2012-9/30/18), Adverse Event Reporting System (AERS 11/1/1997-8/27/2012), and Spontaneous Reporting System (SRS 1/1/1969-10/31/1997) databases presented in an easy-to-read format - you may view the data for each record presented together on one screen.
Download a sample dataset at no charge. Database and instructions are included.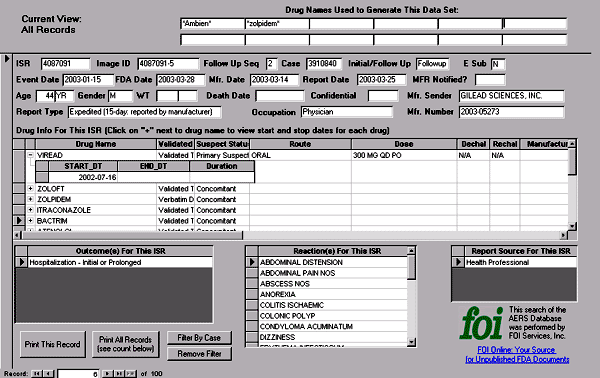 Take advantage of these built-in features:
All data for each case is presented in a clear, easy-to-read format
View only those records where the drug(s) used for your search have primary or secondary suspect status
View results by reaction
Easy-to-read summaries of outcomes and reactions
Export underlying data tables to perform your own further analysis
Generate lists of ISRs and Image Numbers by reaction and/or suspect status for easy requesting of Medwatch forms
Each search includes both brand and generic report (eg: Claritin, Allavert or loratadine) wherever included in the drug name (Claritin, ClaritinD, Claritin Reditabs, etc)
Electronic delivery included
Automatic data updates available as new quarterly data is released by FDA
And much more!
Use with your copy of MS Access 2000 or higher.