Just Received!
New documents at FOI Services -- Updated Weekly
Every week FOI Services receives documents just released by FDA's Freedom of Information office. To browse a list of these documents we received last week, click the appropriate category below, or click the "All" button to make sure you don't miss a thing. If you are trying to locate a specific document, go to our Home/New Search page.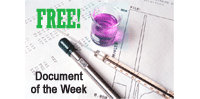 Expert Advice: Turkeys, Turduckens & Leftovers
At this time of year, the US Department of Agriculture offers articles addressing the safe preparation and storage of Thanksgiving turkeys. Here's a compilation of some recent lessons, complete with links to recipes and additional resources. Contents include: avoiding "fowl" turduckens, using Thanksgiving leftovers, properly cooking a turkey, and what to do if your turkey is frozen. Have a safe and happy Thanksgiving!
Document Number:  6207473A
Featured until November 27, 2018