Just Received!
New documents at FOI Services -- Updated Weekly
Every week FOI Services receives documents just released by FDA's Freedom of Information office. To browse a list of these documents we received last week, click the appropriate category below, or click the "All" button to make sure you don't miss a thing. If you are trying to locate a specific document, go to our Home/New Search page.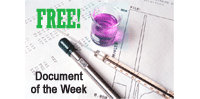 Medicare & the Reuse of Disposable Devices
This 2017 report by the Government Accountability Office examines the $6.7 billion on durable medical equipment spent by Medicare in 2015. The document explains that medical device companies have developed disposable versions of many devices (e.g., insulin pumps) and concludes that some products may be safely reused to provide substantial savings and improve health outcomes.
Document Number:  6207130
Featured until June 26