Just Received!
New documents at FOI Services -- Updated Weekly
Every week FOI Services receives documents just released by FDA's Freedom of Information office. To browse a list of these documents we received last week, click the appropriate category below, or click the "All" button to make sure you don't miss a thing. If you are trying to locate a specific document, go to our Home/New Search page.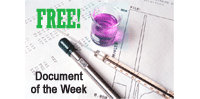 Chemical Innovation: Sustainable Technologies
Can the chemistry behind medicines, personal care products, and other everyday items be improved? In this Technology Assessment, released in March 2018, the Government Accountability Office examines more sustainable alternatives of chemistry technologies - techniques that may use energy and materials more efficiently. Catalysts, solvents, and alternatives to traditional batch processing are specifically addressed.
Document Number:  6207213
Featured until July 24