Just Received!
New documents at FOI Services -- Updated Weekly
Every week FOI Services receives documents just released by FDA's Freedom of Information office. To browse a list of these documents we received last week, click the appropriate category below, or click the "All" button to make sure you don't miss a thing. If you are trying to locate a specific document, go to our Home/New Search page.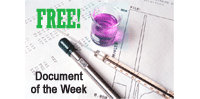 FDA Device Review: Requests for Additional Information
This Government Accountability Office report was prepared in December 2017 to examine FDA medical device reviews specifically to evaluate if requests for additional information follow a least burdensome approach. The document describes FDA's requests to manufacturers for additional information, looks at FDA staff training in least burdensome requirements and describes the changes in procedures FDA has implemented to follow the least burdensome path.
Document Number:  6206900
Featured until March 27