Just Received!
New documents at FOI Services -- Updated Weekly
Every week FOI Services receives documents just released by FDA's Freedom of Information office. To browse a list of these documents we received last week, click the appropriate category below, or click the "All" button to make sure you don't miss a thing. If you are trying to locate a specific document, go to our Home/New Search page.
Users of IE 10: you may have trouble viewing search results. Note: this issue is solved in IE 11. If you're having trouble, Please click the

in your URL bar to turn on compatibility mode, or use a different browser. This problem is due to known issues with IE 10.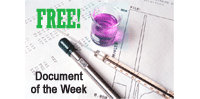 A Legal View: Is the Warning for That Medical Device or Drug Adequate?
Legal staff on both sides of a medical product damage claim lawsuit must understand the collection and analysis of the safety data used to prepare the warning section of the product's label. Regardless of whether you're representing the plaintiff or defendant, you should be familiar with the process (and resulting documentation) FDA requires manufacturers to use in establishing evidence of a product's safety.
On November 16, 2017 Dr. Joshua Sharlin offered a 45-minute presentation to provide an insider's view of common problems and errors in adverse event reporting. In this Document of the Week, learn more about some of the important points he made in this excerpt from the slides.
Document Number:  6206665
Featured until November 27