Just Received!
New documents at FOI Services -- Updated Weekly
Every week FOI Services receives documents just released by FDA's Freedom of Information office. To browse a list of these documents we received last week, click the appropriate category below, or click the "All" button to make sure you don't miss a thing. If you are trying to locate a specific document, go to our Home/New Search page.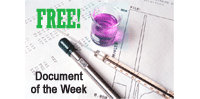 International Intellectual Property Protections: A 2018 Summary Report
The Office of the US Trade Representative is responsible for characterizing markets to which US exports goods and services. Toward this end, a key objective of the Office is ensuring that US owners of Intellectual Property (IP) have a full and fair opportunity to use and profit from their IP around the globe. This 2018 Special Report is the most recent annual review of IP protection and enforcement policies of U.S. trading partners; it identifies and describes countries in which protections (including those for medical devices and pharmaceuticals) are considered inadequate.
Document Number:  6207287
Featured until August 21