Just Received!
New documents at FOI Services -- Updated Weekly
Every week FOI Services receives documents just released by FDA's Freedom of Information office. To browse a list of these documents we received last week, click the appropriate category below, or click the "All" button to make sure you don't miss a thing. If you are trying to locate a specific document, go to our Home/New Search page.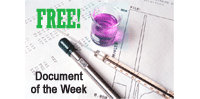 FTC's Support of Healthcare Competition
This week's document is a transcript of remarks made at a November 2017 American Bar Association meeting presented by Maureen Ohlhausen, Acting Chair of the Federal Trade Commission. The speech outlines FTC efforts to comply with the executive order to foster competition in healthcare markets and addresses anticompetitive behavior in markets for patented pharmaceuticals, including pay-for-delay, company court filings which delay FDA approval of competitive products, barriers to market entry for generic drugs, and state initiatives. Links to supporting documentation are provided.
Document Number:  6207037
Featured until April 24