Just Received!
New documents at FOI Services -- Updated Weekly
Every week FOI Services receives documents just released by FDA's Freedom of Information office. To browse a list of these documents we received last week, click the appropriate category below, or click the "All" button to make sure you don't miss a thing. If you are trying to locate a specific document, go to our Home/New Search page.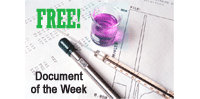 Medicaid Fraud & Overpayments
In this June 2018 transcript of testimony before the US Senate Committee on Homeland Security and Governmental Affairs, Brian Ritchie of the DHHS Office of Inspector General addresses fraud and overpayments associated with Medicaid. The report presents overviews and examples of problems identified, including reliability of Medicaid data, enforcement efforts, states' roles in provider screening, improper and wasteful payments, overpayment for prescription drugs and monitoring of quality of care.
Document Number:  6207383
Featured until September 25, 2018