Just Received!
New documents at FOI Services -- Updated Weekly
Every week FOI Services receives documents just released by FDA's Freedom of Information office. To browse a list of these documents we received last week, click the appropriate category below, or click the "All" button to make sure you don't miss a thing. If you are trying to locate a specific document, go to our Home/New Search page.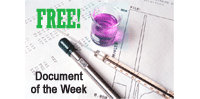 Complying with EU's New MDR/IVDR Rules
Europe's new Medical Device and IVD requirements will take effect before you know it...and device firms are struggling with the issues raised. How do your efforts and expectations compare to others trying to comply with the new regulations?
In March, Compliance-Alliance and FOI Services distributed a short survey intended to help those affected by the new rules develop and improve their understanding of efforts currently underway in affected industry…we thank all of you who have already contributed your own experience. In this Document of the Week, FOI is pleased to offer a first look at the results of this survey so far – we hope that this summary helps you benchmark your own status and perhaps underscore your need for additional support.
(NOTE: The survey is still open. To add your experiences, we welcome your online contribution at Compliance with MDR/IVDR Requirements. Results are anonymous.)
Document Number:  6207082
Featured until May 22