Just Received!
New documents at FOI Services -- Updated Weekly
Every week FOI Services receives documents just released by FDA's Freedom of Information office. To browse a list of these documents we received last week, click the appropriate category below, or click the "All" button to make sure you don't miss a thing. If you are trying to locate a specific document, go to our Home/New Search page.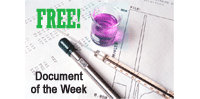 US Drug Regulation Timeline
It's often easier to understand a subject if you have a sense of what happened when, and the development and evolution of drug regulation is no exception. This listing, prepared by FDA, offers a timeline summarizing significant events and legislation contributing to the approval and surveillance of pharmaceuticals in the US beginning with the 1820 establishment of the US Pharmacopeia and running through the 2006 final rule detailing the labeling for prescription drugs and biologics.
Document Number:  6207429
Featured until October 16, 2018