Just Received!
New documents at FOI Services -- Updated Weekly
Every week FOI Services receives documents just released by FDA's Freedom of Information office. To browse a list of these documents we received last week, click the appropriate category below, or click the "All" button to make sure you don't miss a thing. If you are trying to locate a specific document, go to our Home/New Search page.
Users of IE 10: you may have trouble viewing search results. Note: this issue is solved in IE 11. If you're having trouble, Please click the

in your URL bar to turn on compatibility mode, or use a different browser. This problem is due to known issues with IE 10.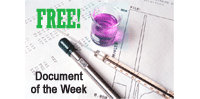 International Travel?
If you travel internationally on business, take advantage of the US Foreign Service Institute's "Protocol for the Modern Diplomat." While some of the document is primarily for embassy employees, any traveller working in a foreign setting can benefit from the descriptions of proper etiquette for introductions, use of titles, business card content, considerations for formal, semi-formal and casual dress, and more. If you find yourself working with an embassy, you may find the glossary of diplomatic terms and suggestions for additional reading especially valuable.
Document Number:   6206228
Featured until May 30