Just Received!
New documents at FOI Services -- Updated Weekly
Every week FOI Services receives documents just released by FDA's Freedom of Information office. To browse a list of these documents we received last week, click the appropriate category below, or click the "All" button to make sure you don't miss a thing. If you are trying to locate a specific document, go to our Home/New Search page.
Users of IE 10: you may have trouble viewing search results. Note: this issue is solved in IE 11. If you're having trouble, Please click the

in your URL bar to turn on compatibility mode, or use a different browser. This problem is due to known issues with IE 10.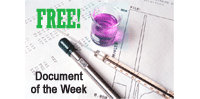 How to Read a 10-K: An Intro from the SEC
If you're researching a US public company, you can find a wealth of information in the firm's annual reporting to the Securities and Exchange Commissions (SEC). Using the annual Form 10-K, each company describes its business model and risks, financial results, and a summary of the business climate from the perspective of corporate management. In this Document of the Week, the SEC offers a concise introduction to 10-K content, organization and includes some suggestions for using the information.
Document Number:  6206840
Featured until February 27