Just Received!
New documents at FOI Services -- Updated Weekly
Every week FOI Services receives documents just released by FDA's Freedom of Information office. To browse a list of these documents we received last week, click the appropriate category below, or click the "All" button to make sure you don't miss a thing. If you are trying to locate a specific document, go to our Home/New Search page.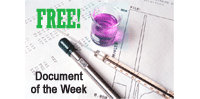 FDA & the 1937 Elixir Sulfanilamide Incident
The FDA has a long, intriguing history, and the agency's origins and experiences serve as a foundation to inform the policies and procedures used today. This Document of the Week is a brief and compelling look at the tragedy which followed the introduction of Elixir Sulfanilamide and prompted the passage of the 1938 Food and Drugs Act.
Document Number:  6206973A
Featured until 3/26/19