Just Received!
New documents at FOI Services -- Updated Weekly
Every week FOI Services receives documents just released by FDA's Freedom of Information office. To browse a list of these documents we received last week, click the appropriate category below, or click the "All" button to make sure you don't miss a thing. If you are trying to locate a specific document, go to our Home/New Search page.
Users of IE 10: you may have trouble viewing search results. Note: this issue is solved in IE 11. If you're having trouble, Please click the

in your URL bar to turn on compatibility mode, or use a different browser. This problem is due to known issues with IE 10.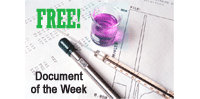 Healthcare Effectiveness: A Review
The Agency for Healthcare Research and Quality released this "Methods Guide for Effectiveness and Comparative Effectiveness Reviews" in early 2014, and we are featuring it as the Document of the Week as it presents a systematic look at various healthcare interventions from several countries, including the UK, Germany, France and Canada. The methodology presented is especially interesting, as it examines building a stronger empiric base in order to increase transparency and effectiveness and define best practices.
Document Number:  6206563
Featured until September 29