Just Received!
New documents at FOI Services -- Updated Weekly
Every week FOI Services receives documents just released by FDA's Freedom of Information office. To browse a list of these documents we received last week, click the appropriate category below, or click the "All" button to make sure you don't miss a thing. If you are trying to locate a specific document, go to our Home/New Search page.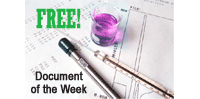 Health Care Fraud & Abuse
Dated June 2020, this report was jointly prepared by the Department of Health and Human Services and the Department of Justice. It summarizes FY2019 activities to identify and prosecute egregious instances of health care fraud, prevent future fraud and abuse, and protect the provisions of the Health Care Fraud and Abuse Control Program within HIPAA. The report provides a look at significant criminal and civil investigations in tables and charts as well as narrative descriptions.
Document Number: 6231676A
Featured until 3/2/21