Just Received!
New documents at FOI Services -- Updated Weekly
Every week FOI Services receives documents just released by FDA's Freedom of Information office. To browse a list of these documents we received last week, click the appropriate category below, or click the "All" button to make sure you don't miss a thing. If you are trying to locate a specific document, go to our Home/New Search page.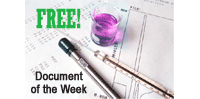 FDA's IT Acquisition
The US Department of Health and Human Services Office of Inspector General (OIG) is calling on the Food and Drug Administration to improve its processes for buying information technology (IT). In this January 2023 document, the report of the underlying investigation offers insight into FDA's purchasing policies and operations. An appendix includes FDA's response to OIG's findings.
Document Number: 6242821A
Featured until 2/7/2023