Just Received!
New documents at FOI Services -- Updated Weekly
Every week FOI Services receives documents just released by FDA's Freedom of Information office. To browse a list of these documents we received last week, click the appropriate category below, or click the "All" button to make sure you don't miss a thing. If you are trying to locate a specific document, go to our Home/New Search page.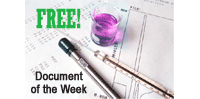 FAQs: Rx Drug Pricing
The Congressional Research Service (CRS) is charged with preparing backgrounders to help Senate and House representatives and their staff understand the history behind and challenges facing those crafting legislation. This May 2021 CRS report addresses frequently asked questions about government and private-sector policies that affect drug prices and availability. Among the prescription drug topics covered are spending trends, federally funded research and development, regulation of direct-to-consumer advertising, legal restrictions on prescription drug reimportation, and federal price negotiation.
Document Number: 6232416A
Featured until 6/29/21