Just Received!
New documents at FOI Services -- Updated Weekly
Every week FOI Services receives documents just released by FDA's Freedom of Information office. To browse a list of these documents we received last week, click the appropriate category below, or click the "All" button to make sure you don't miss a thing. If you are trying to locate a specific document, go to our Home/New Search page.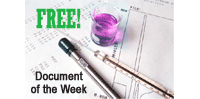 Are EUAs Working?
The Government Accountability Office (GAO) prepared this November 2020 report to evaluate efforts to hasten vaccine and therapeutic development via Emergency Use Authorizations. Document contents address the program's background, Warp Speed partnerships, adequacy of evidence of safety and effectiveness data required, and offers recommendations for action to improve the EUA program. FDA's response to the recommendations is also included.
Document Number: 6231514A
Featured until 1/26/21