Just Received!
New documents at FOI Services -- Updated Weekly
Every week FOI Services receives documents just released by FDA's Freedom of Information office. To browse a list of these documents we received last week, click the appropriate category below, or click the "All" button to make sure you don't miss a thing. If you are trying to locate a specific document, go to our Home/New Search page.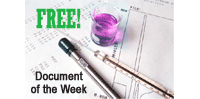 Evaluation of COVID-19 Spending
In response to the COVID-19 pandemic, Congress appropriated $2.6 trillion in emergency assistance for people, businesses, the health care system, and state and local governments.
How are federal agencies administering this spending? The Government Accountability Office (GAO) is charged with issuing bi-monthly reports reviewing the government response to the pandemic as well as oversight of related spending.
In this first report. dated June 2020, GAO found that the Small Business Administration processed over $512 billion in guaranteed small business loans, but isn't ready to address fraud risks and hasn't said how it plans to oversee the loans. Also, the IRS and Treasury made 160.4 million payments worth $269.3 billion to taxpayers as of May 31—including payments to more than a million deceased individuals.
The report spells out GAO's recommendations for these programs, as well as viral testing, areas where federal guidance is needed and related topics.
Document Number: 6231122A
Featured until 8/4/20