Just Received!
New documents at FOI Services -- Updated Weekly
Every week FOI Services receives documents just released by FDA's Freedom of Information office. To browse a list of these documents we received last week, click the appropriate category below, or click the "All" button to make sure you don't miss a thing. If you are trying to locate a specific document, go to our Home/New Search page.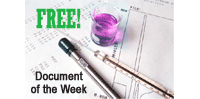 FDA's Stewardship of Federal Programs
FDA is subject to audits of its internal activities as well as activities performed by its grantees and contractors. In this August 2019 report, the DHHS Office of Inspector General (OIG) examines the timeliness of FDA's performance in resolving audit findings as of September 30, 2016. Conclusions are mixed and state that FDA runs the risk of noncompliance with Federal requirements and mismanagement of Federal funds but finds that significant progress has been made since 2016, including developing and distributing appropriate policies. FDA's comments on the report are included as an appendix.
Document Number:  6230376A
Featured until 10/22/19