Just Received!
New documents at FOI Services -- Updated Weekly
Every week FOI Services receives documents just released by FDA's Freedom of Information office. To browse a list of these documents we received last week, click the appropriate category below, or click the "All" button to make sure you don't miss a thing. If you are trying to locate a specific document, go to our Home/New Search page.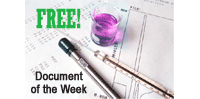 Safety of FDA's Biologic Laboratories
This September 2020 report was prepared by the Government Accountability Office (GAO) to study concerns about the oversight of FDA laboratories that conduct research in hazardous biological agents. Initiated to evaluate practices cited in a 2016 report, GAO makes five recommendations to FDA. including roles and responsibilities for lab safety, overall safety strategy, and clear definition of oversight authority. An appendix includes FDA's reaction to the report.
Document Number: 6231307A
Featured until 11/3/20