Just Received!
New documents at FOI Services -- Updated Weekly
Every week FOI Services receives documents just released by FDA's Freedom of Information office. To browse a list of these documents we received last week, click the appropriate category below, or click the "All" button to make sure you don't miss a thing. If you are trying to locate a specific document, go to our Home/New Search page.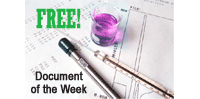 Opioid Treatments for Chronic Pain
The Agency for Healthcare Research and Quality (AHRQ), through its Evidence-based Practice Centers (EPCs), sponsors the development of evidence reports and technology assessments to assist public- and private-sector organizations in their efforts to improve the quality of healthcare in the United States. This in-depth report was released in April 2020 by AHRQ and provides a 500+ page review of evidence assessing the effectiveness and harms of opioid therapy for chronic noncancer pain, alternative opioid dosing strategies, and risk mitigation strategies.
Document Number: 6230913A
Featured until 6/2/20