Just Received!
New documents at FOI Services -- Updated Weekly
Every week FOI Services receives documents just released by FDA's Freedom of Information office. To browse a list of these documents we received last week, click the appropriate category below, or click the "All" button to make sure you don't miss a thing. If you are trying to locate a specific document, go to our Home/New Search page.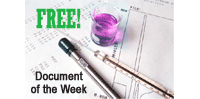 Analysis: 2018 Drug GMP Warning Letters
This recent article presents a detailed summary of the drug GMP warning letters issued in FY2018. It also includes a comparison of trends since FY2013, allowing drug manufacturers and related experts to identify the interests of FDA investigators and prepare firms subject to inspections to address similar situations. The data included offers a look broken down by facility type, US vs. non-US sites by country and region, timing of warning letters, and a summary of import alerts associated with warning letters.
Document Number:  6208982A
Featured until 5/28/19