Just Received!
New documents at FOI Services -- Updated Weekly
Every week FOI Services receives documents just released by FDA's Freedom of Information office. To browse a list of these documents we received last week, click the appropriate category below, or click the "All" button to make sure you don't miss a thing. If you are trying to locate a specific document, go to our Home/New Search page.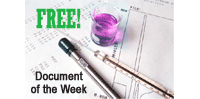 FDA, EPA, DEA: Programs for Opiate Disposal
In this September 2019 report, the Government Accountability Office offers Congress a summary of patient options for disposal of unused opioids. The report's contents address requirements and suggestions of the Drug Enforcement Administration, the Environmental Protection Agency, and the Food and Drug Administration. and evaluates the studies analyzing the effectiveness of the various federal programs. Comments from FDA and EPA are also included.
Document Number:  6230477A
Featured until 12/10/19