Just Received!
New documents at FOI Services -- Updated Weekly
Every week FOI Services receives documents just released by FDA's Freedom of Information office. To browse a list of these documents we received last week, click the appropriate category below, or click the "All" button to make sure you don't miss a thing. If you are trying to locate a specific document, go to our Home/New Search page.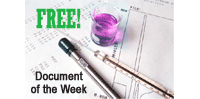 US Biomedical Research: Undue Foreign Influence
This April 2021 testimony before the US Senate was prepared and presented by the Office of Inspector General (OIG) of the Department of Health and Human Services to present the OIG's efforts to protect taxpayer-funded medical research and insure research integrity. The testimony summarizes, primarily, how OIG reviews allegations of the failure of grantee principal investigators to disclose foreign government affiliations, and specifically describes its strategy of the prevention of, and enforcement action against, grant fraud.
Document Number: 6241642A
Featured until 02/01/22