Just Received!
New documents at FOI Services -- Updated Weekly
Every week FOI Services receives documents just released by FDA's Freedom of Information office. To browse a list of these documents we received last week, click the appropriate category below, or click the "All" button to make sure you don't miss a thing. If you are trying to locate a specific document, go to our Home/New Search page.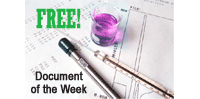 INDs & the Right to Try: Congressional Backgrounder
This November 2018 Congressional Research Service report summarizes, for members of Congress, the issues involved in expanded drug access for Investigational New Drugs. The document specifically addresses past, current and proposed legislation, FDA-related issues and role in regulating access to INDs, and topics now before Congress, including eligible patients, informed consent, data required from drug sponsrs, costs to patients, and liability protection.
Document Number:  6208916A
Featured until 4/30/19