Just Received!
New documents at FOI Services -- Updated Weekly
Every week FOI Services receives documents just released by FDA's Freedom of Information office. To browse a list of these documents we received last week, click the appropriate category below, or click the "All" button to make sure you don't miss a thing. If you are trying to locate a specific document, go to our Home/New Search page.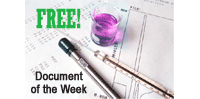 GAO Study of High-Risk Programs
This March 2019 General Accountability Office report is a compilation of the "High-Risk Series" of documents examining areas of the government considered to be vulnerable to fraud, waste, abuse, and mismanagement or in need of dramatic transformation. This comprehensive collection addresses programs throughout the US government ranging across transportation, Department of Defense program management, Medicaid integrity, and much more. Those in the health care industry will be especially interested in the chapter titled "Protecting Public Health through Enhanced Oversight of Medical Products," which studies FDA inspection programs as well as the handling of drug shortages.
Document Number:  6230325A
Featured until 9/24/19