Just Received!
New documents at FOI Services -- Updated Weekly
Every week FOI Services receives documents just released by FDA's Freedom of Information office. To browse a list of these documents we received last week, click the appropriate category below, or click the "All" button to make sure you don't miss a thing. If you are trying to locate a specific document, go to our Home/New Search page.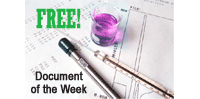 COVID-19 & China: A Chronology
The Congressional Research Service is charged with developing background papers describing issues under consideration before the Senate and House of Representatives. This report, updated in May 2020, examines the beginnings of the COVID-10 pandemic, offers short sections on disease terminology and examines the Chinese geographic and political context of the outbreak in its early weeks. The document also offers discussions of issues raised by the timeline; both day-by-day and concise timelines are included.
Document Number: 6231079A
Featured until 7/21/20