Just Received!
New documents at FOI Services -- Updated Weekly
Every week FOI Services receives documents just released by FDA's Freedom of Information office. To browse a list of these documents we received last week, click the appropriate category below, or click the "All" button to make sure you don't miss a thing. If you are trying to locate a specific document, go to our Home/New Search page.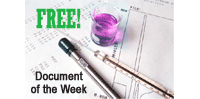 June 2021 UFO Update
This week's document has nothing to do with FDA-regulatory topics, but it's unusual enough that we wanted to share it. Dated June 2021, this report from the Office of the Director of National Intelligence offers an assessment of "Unidentified Aerial Phenomena (UAPs)" - commonly known as UFOs. The document provides an overview for policymakers of the challenges associated with threats potentially posed by UAPs and looks at incidents reported from 2004 through March 2021.
Document Number: 6233031A
Featured until 8/3/21