Just Received!
New documents at FOI Services -- Updated Weekly
Every week FOI Services receives documents just released by FDA's Freedom of Information office. To browse a list of these documents we received last week, click the appropriate category below, or click the "All" button to make sure you don't miss a thing. If you are trying to locate a specific document, go to our Home/New Search page.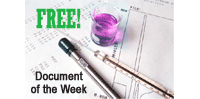 Congressional Stimulus Assistance to Small Business During Covid-19
The Congressional Research Service prepared this March 30, 2020 report to provide Congressional staff with background describing stimulus programs to small business. Congressional interest in these programs has always been high, but it has become especially acute in the wake of the Coronavirus pandemic's widespread adverse economic impact on the national economy, including productivity losses, supply chain disruptions, major labor dislocation, and significant financial pressure on both businesses and households. This report provides a brief description of the SBA's programs, examines congressional action to assist small businesses during and immediately following the Great Recession (2007-2009), and discusses legislation to assist small businesses adversely affected by the COVID-19 pandemic.
Document Number:  6230751A
Featured until 4/7/20