Just Received!
New documents at FOI Services -- Updated Weekly
Every week FOI Services receives documents just released by FDA's Freedom of Information office. To browse a list of these documents we received last week, click the appropriate category below, or click the "All" button to make sure you don't miss a thing. If you are trying to locate a specific document, go to our Home/New Search page.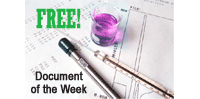 An Examination of HHS Programs Preventing Political Interference
Released in April 2022, this Government Accountability Office paper discusses the scientific integrity procedures and training at various Department of Health and Human Services agencies. The report was prepared at the behest of Congress to identify how to maintain public trust and safeguarding public health agencies' scientific decision-making from political interference. Specifically, the findings present procedures in place to prevent outside influence, and the training programs provided to government employees on established scientific integrity programs.
Document Number: 6242363A
Featured until 8/16/22