Just Received!
New documents at FOI Services -- Updated Weekly
Every week FOI Services receives documents just released by FDA's Freedom of Information office. To browse a list of these documents we received last week, click the appropriate category below, or click the "All" button to make sure you don't miss a thing. If you are trying to locate a specific document, go to our Home/New Search page.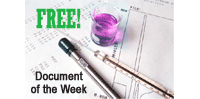 Basic Research: Emerging Infectious Disease & Preparedness
In 2018, DARPA, the Defense Advanced Research Projects Agency, initiated PREventing EMerging Pathogenic Threats (PREEMPT), a 3.5 year program to reinforce traditional medical preparedness by exploring the containing of viral infectious diseases. In this 2019 program summary, DARPA outlines projects to model viral evolution and assess interventions; descriptions of, and links to, the fundamental zoonotic PREEMPT studies underway are provided.
Document Number:  6230197A
Featured until 7/23/19