Just Received!
New documents at FOI Services -- Updated Weekly
Every week FOI Services receives documents just released by FDA's Freedom of Information office. To browse a list of these documents we received last week, click the appropriate category below, or click the "All" button to make sure you don't miss a thing. If you are trying to locate a specific document, go to our Home/New Search page.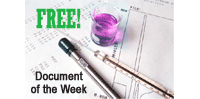 REMS Adequacy: Mifiprex
The Government Accountability Office released this report in 2018 in response to Congressional concerns about the adequacy of postmarketing safety monitoring of Mifiprex. This document describes the FDA;s monitoring of the safety and use of the drug, offering an interesting examination of the Risk Evaluation and Mitigation Strategy for an FDA-approved product which carries political baggage. Contents address approval data, inspectional history, adverse events and assessment of stakeholder organization views.
Document Number:  6230417A
Featured until 11/19/19