Just Received!
New documents at FOI Services -- Updated Weekly
Every week FOI Services receives documents just released by FDA's Freedom of Information office. To browse a list of these documents we received last week, click the appropriate category below, or click the "All" button to make sure you don't miss a thing. If you are trying to locate a specific document, go to our Home/New Search page.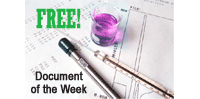 Medical Countermeasures for COVID-19: FAQs
FAQs for Medical Countermeasures (MCMs) for COVID-19 was prepared by the Congressional Research Service (CRS), which provides backgrounders for congressional committees and Members of Congress. Dated June 25, 2020, the document examines the development and regulation of vaccines, diagnostics, and treatments for the novel Coronavirus. Questions address a range of topics, from how MCMs are typically developed to paths to accelerated R&D to the role of various agencies in regulating these products.
Document Number: 6231229A
Featured until 9/29/20