Just Received!
New documents at FOI Services -- Updated Weekly
Every week FOI Services receives documents just released by FDA's Freedom of Information office. To browse a list of these documents we received last week, click the appropriate category below, or click the "All" button to make sure you don't miss a thing. If you are trying to locate a specific document, go to our Home/New Search page.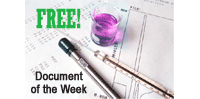 Interview Questions
This January 2021 list of interview questions, prepared by the state of Kentucky, suggests 26 categories of behavioral skills to be evaluated in potential new hires. The document covers a range of topics including leadership skills, time management, and analytical thinking. For each category, the document suggests 10 or 12 questions to ask the job applicant.
Document Number: 6241329A
Featured until 12/7/21