Just Received!
New documents at FOI Services -- Updated Weekly
Every week FOI Services receives documents just released by FDA's Freedom of Information office. To browse a list of these documents we received last week, click the appropriate category below, or click the "All" button to make sure you don't miss a thing. If you are trying to locate a specific document, go to our Home/New Search page.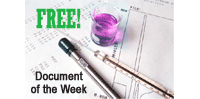 Operation Stolen Promise: COVID-19 & the Medical Supply Chain
This July 2020 testimony before the US Senate Committee on Finance was delivered by Steve Francis, Assistant Director for Global Trade Investigations Division and Director of The National Intellectual Property Rights Coordination Center. In these prepared remarks, Mr Francis addresses protecting the integrity of the US medical supply chain and concentrates on COVID-19-related fraud and criminal activity as identified under the auspices of Operation Stolen Promise. The document summarizes the progress of 579 nationwide investigations and looks at trends and weaknesses for future investigations.
Document Number: 6231394A
Featured until 12/8/20