Just Received!
New documents at FOI Services -- Updated Weekly
Every week FOI Services receives documents just released by FDA's Freedom of Information office. To browse a list of these documents we received last week, click the appropriate category below, or click the "All" button to make sure you don't miss a thing. If you are trying to locate a specific document, go to our Home/New Search page.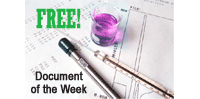 NIH's Licensing of Intellectual Property
In this October 2020 report, the Government Accountability Office evaluates the National Institutes of Health's effectiveness at disclosing information about licensing of its intellectual property (IP), including patents. The document summarizes the history of IP at NIH, looks at how NIH IP has been used by drug manufacturers, how IP rights and permissions are assigned, how licensees have profited, and how public health has been affected by the licenses granted.
Document Number: 6231845A
Featured until 5/18/21