Just Received!
New documents at FOI Services -- Updated Weekly
Every week FOI Services receives documents just released by FDA's Freedom of Information office. To browse a list of these documents we received last week, click the appropriate category below, or click the "All" button to make sure you don't miss a thing. If you are trying to locate a specific document, go to our Home/New Search page.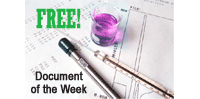 Privacy Protections: HIPAA vs. the FTC
In this July 2022 report, the Congressional Research Service compares the privacy protections covered by the Health Insurance Portability and Accountability Act (HIPAA) and the Federal Trade Commission. The document summarizes covered entities, exceptions, when the protections are applied, and information apt to be affected.
Document Number: 6242718A
Featured until 12/13/22