Just Received!
New documents at FOI Services -- Updated Weekly
Every week FOI Services receives documents just released by FDA's Freedom of Information office. To browse a list of these documents we received last week, click the appropriate category below, or click the "All" button to make sure you don't miss a thing. If you are trying to locate a specific document, go to our Home/New Search page.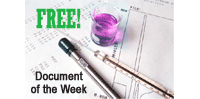 Medical Products: Pathways to Market
When evaluating a product, FDA weighs the potential benefits of a medical product against potential harm, so Congress and FDA have established both premarket and postmarket requirements for medical products,including expedited development and review pathways. In this way, Congress and FDA have acknowledge the trade-off between reducing time to marketing and a potentially less complete safety profile upon approval. This December 2019 report was prepared by the Congressional Research Service to summarize various approval pathways for drugs and devices.
Document Number:  6230657A
Featured until 2/25/20