Just Received!
New documents at FOI Services -- Updated Weekly
Every week FOI Services receives documents just released by FDA's Freedom of Information office. To browse a list of these documents we received last week, click the appropriate category below, or click the "All" button to make sure you don't miss a thing. If you are trying to locate a specific document, go to our Home/New Search page.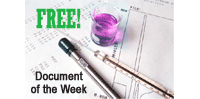 Devices & Third Party Review
The Accredited Persons Program was created by the FDA Modernization Act of 1997 (FDAMA) to improve the efficiency and timeliness of FDA's 510(k) process. Under the program, FDA accredits Third Parties (Accredited Persons) that are authorized to conduct the primary review of 510(k)s for eligible devices. Under MDUFA IV, the FDA committed to publishing the performance of individual accredited Third Parties with at least five completed submissions This FDA report, which summarizes Third Party Performance Metrics, covers FY2018 through the 3rd quarter of FY2021 and looks at review time, hold time and total decision time by individual accredited parties.
Document Number: 6240808A
Featured until 9/21/21