Just Received!
New documents at FOI Services -- Updated Weekly
Every week FOI Services receives documents just released by FDA's Freedom of Information office. To browse a list of these documents we received last week, click the appropriate category below, or click the "All" button to make sure you don't miss a thing. If you are trying to locate a specific document, go to our Home/New Search page.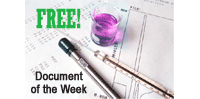 GAO Report: FDA's Authorization of COVID Diagnostics
Dated May 2022, this Government Accountability Office report examines the steps FDA took to help make COVID-19 tests available and examines policy questions for future public health emergencies. Specifics addressed include the types and numbers of tests authorized by FDA, the monitoring of the effectiveness of these tests, and suggested changes for future Emergency Use Authorization procedures.
Document Number: 6242076A
Featured until 5/24/22