Just Received!
New documents at FOI Services -- Updated Weekly
Every week FOI Services receives documents just released by FDA's Freedom of Information office. To browse a list of these documents we received last week, click the appropriate category below, or click the "All" button to make sure you don't miss a thing. If you are trying to locate a specific document, go to our Home/New Search page.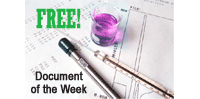 FDA & Warning Letters for Seafood
The Government Accountability Office (GAO) is charged with monitoring and evaluating government agency functions. In this March 2021 report, the GAO analyzed seafood warning letters over four years and found significant lapses in the agency's own procedures, especially in the timing of follow-up to warning letters. The report concludes with recommendations for improvement and a response from the Department of Health and Human Services.
Document Number: 6231806A
Featured until 4/27/21